Soyuz MS-05 commander Sergey Ryazanskiy of Roscosmos, along with flight engineers Randy Bresnik of NASA and Paolo Nespoli of the European Space Agency are set to launch to the International Space Station on Friday (July 28) at 10:41 a.m. CDT (1541 GMT; 9:41 p.m. local time) from Russia's Baikonur Cosmodrome in Kazakhstan.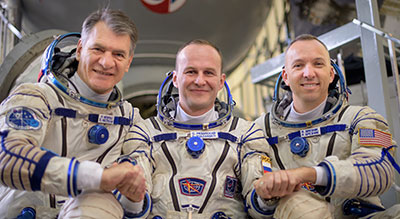 Credit: NASA/Bill Ingalls
They will dock the Soyuz to the space station's Rassvet module at 5 p.m CDT (2300 GMT), following a four-orbit rendezvous.
About two hours later, the hatches between the Soyuz and space station will open and Ryazanskiy, Bresnik and Nespoli will be greeted by Expedition 52 commander Fyodor Yurchikhin and flight engineers Peggy Whitson and Jack Fischer.
Ryazansky, Bresnik and Nespoli will stay onboard the station through December.
On Wednesday (July 26), the Soyuz-FG rocket topped with the Soyuz MS-05 spacecraft was rolled out to the pad by train and erected into position.