posted 12-02-2012 04:03 AM




---
The Young charm may be considerably cheaper but the displays I have seen are a triumph of style over substance in my opinion.

I don't wish to denigrate the Young charms in any way; they are very nice items and I have considered buying one myself. But they are very small!

The Apollo 14 beta cloths may be more common than the charms; less unique, but in my opinion they make for a much more impressive display.

And if you contact Dr. Mitchell via his webiste he will be more than happy to accommodate any request for inscription wording, pen type or colour that you require. His Personal Assistant Cathy will probably be able to organise provenance photos of him holding it too.

Notably you will be getting the beta cloth directly from the man himself; that is pretty neat.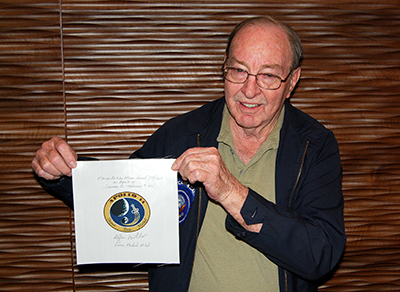 It is worth mentioning that he now has very few beta cloths left; perhaps a dozen or so. When the crew divided their flown Apollo 14 artifacts Al Shepard and Stu Roosa took very few beta cloths leaving Dr Mitchell with the majority. Somewhere in the region of 250 at one point.