Inspired by an idea and sketch from Eddy Ruytings of Belgium, this patch celebrates the work that went into assembling the International Space Station from 1998 to 2011.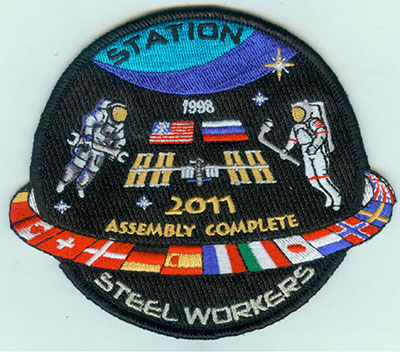 A simple yet fun patch in the same vein of the Hubble Huggers patch, Station Steelworkers depicts both US and Russian EVA suits, the astronauts holding tools. The Flags of the ISS partners are depicted "orbiting" the design.
This design was created by Tim Gagnon of Titusville, FL and Jorge Cartes of Madrid, Spain.
Your price is $6.00/ea for the 4 inch patch plus $7.00 for domestic USPS Priority Mail - $20 for International. Orders can be combined. Please print and send in this form along with your payment