rjurek349
Member

Posts: 826
From:
Registered: Jan 2002

posted 01-31-2013 09:18 PM




---
Flown Apollo 17 CM-EVA MALF cue card. This cue card was one of 4 specifically designed for use during Ron Evans' over hour-long EVA to retrieve the CM film canister and inspect the SIM Bay. As such, it is one of the few mission and EVA critical support materials not stowed away during cabin depressurization and exposure to the vacuum of deep space during the EVA. The 4 CM-EVA cue cards were stowed in locker R2, and were attached to the MDC (main control console) during the entire length of the EVA. This fantastic and one-of-a kind item is rectangular in shape, made of heavy card stock, and measures a substantial 9" (height) x 3.5" (width). Velcro strips on both the front and back. Acquired directly from the Gene Cernan space collection, and Cernan has hand signed and flight certified on the back: "Flown to the Moon - Gene Cernan." It also comes with a custom, hand signed Cernan COA detailing the mission and the specific cue card.

More than just a lunar orbit flown item, EVA material of this quality and rarity seldom come up for sale. Only three missions included such a CM EVA (A15, A16, and A17), making this card singular for A17, and only one of three flown for the entire Apollo program.

I am asking $7,499, or best offer. Includes shipping (FedEx overseas; USPO registered mail in the US). Scans available to serious bidders upon request. If interested, please send an email at my contact address listed above.
rjurek349
Member

Posts: 826
From:
Registered: Jan 2002

posted 02-02-2013 05:50 PM




---
At the request of a number of interested cSers, here are images of the front and back of the offered flown CM-EVA flown cue card.

Front of card: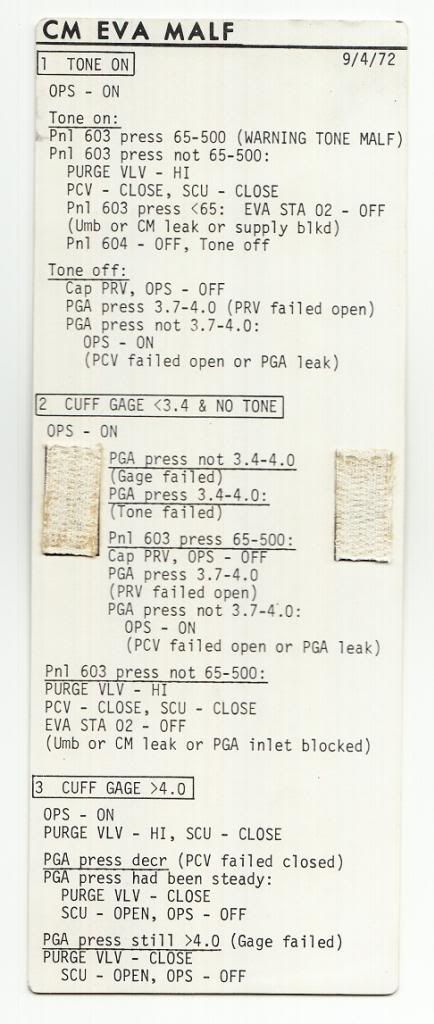 Backside of cue card: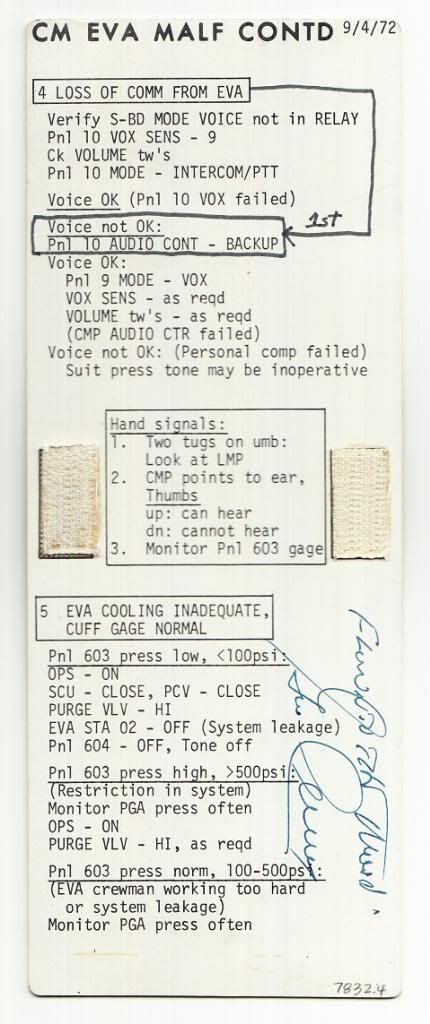 rjurek349
Member

Posts: 826
From:
Registered: Jan 2002

posted 02-08-2013 10:24 PM




---
Final price drop: $3,499, firm.