spacehiker
Member

Posts: 215
From: London, UK
Registered: Aug 2009

posted 01-03-2013 01:01 PM




---
Skylab Prototype Food Warming Tray

This came from the estate of a NASA engineer. It appears to be an unusual item, I have been unable to identify any recent catalogued sales of similar Skylab food warming trays (please let me know if you are aware of any).

Although a great artifact, it is outside my area of collecting and unfortunately has to go.

Measures approximately 49cm long by 31cm wide by 7.5cm deep.

Contact me if your interested.
Mercurypgm
Member

Posts: 217
From: Houston, Tx
Registered: Aug 2002

posted 01-03-2013 11:24 PM




---
I have a nice "S" number glossy (signed by Conrad, Bean and Carr — the three commanders) that shows a close up of the SL food warmer (tray). I also have some pictures of the trays in space.

Here is a close up picture of the tray. No idea if this is similar to those flown or a prototype...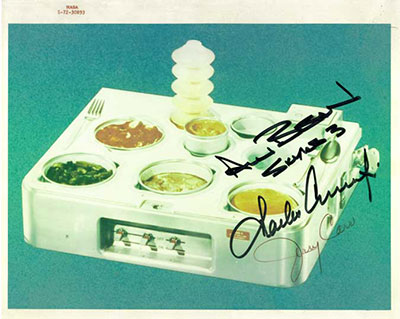 The reason I knew where to find that specific image is since I own Conrad's and Bean's flown Skylab utensils it is stored with the utensils in my safe box. I have never compared the NASA glossy with the images of the SL-2 crew eating in space (I think those are signed by Conrad), but I will do so and get pictures posted from space....you have raised my curiosity.
spacehiker
Member

Posts: 215
From: London, UK
Registered: Aug 2009

posted 01-04-2013 01:44 AM




---
After a number of requests re pricing, I would accept $450.

Will consider offers.

***NOW SOLD***
Mercurypgm
Member

Posts: 217
From: Houston, Tx
Registered: Aug 2002

posted 01-27-2013 07:17 PM




---
Received the food warmer and I am very pleased. Thanks for the great item and speedy service. — Richard