MrSpace86
Member

Posts: 1582
From: Gardner, KS, USA
Registered: Feb 2003

posted 02-17-2018 12:46 PM




---
If any of you are in the Kansas City area this weekend and are attending Planet Comicon, make sure you visit the Cosmosphere's booth! It is located near Artist's Alley and they have a section of the actual Mission Control they are restoring.

The staff on hand is really nice and you can win a chance to ride their gyroscope trainer.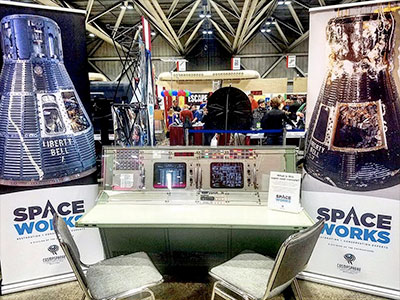 Robert Pearlman
Editor

Posts: 38918
From: Houston, TX
Registered: Nov 1999

posted 02-17-2018 01:43 PM




---
Looks like a fantastic opportunity!

Just to clarify for the benefit of others reading, the display is not one of the consoles recently relocated from Johnson Space Center for restoration. Rather, it is a backroom console that has been part of the Cosmosphere's holdings. As noted by the museum on Facebook:
...a console from the back room of historic Mission Control at Johnson Space Center that was modified (by SpaceWorks, a division of the Cosmosphere) for the upcoming feature film "First Man," starring Ryan Gosling and Claire Foy!