posted 01-11-2008 08:21 PM




---
My good friend and long-time collectSPACE member Gerhard Daum has graciously shared his photographs from the opening of an exhibition he organized currently underway in Malaysia. This is another great example of a collector displaying his artifacts in a highly-visible public setting, furthering interest in space exploration history. Congratulations Gerhard!

Malaysia International Space Adventure

Marking Malaysia 50th anniversary of independence, the Malaysia International Space Adventure (MISA '07) was launched in Putrajaya, the government district close at Kuala Lumpur, on December 15, 2007. The space exploration themed-exhibit was opened to the public the next day and continues to run through March (with a high possibility of being extended by another three months).

The first exposition of its kind in Asia, MISA '07 offers visitors the chance to experience space on Earth via a range of multi-dimensional and multi-sensory experiences, catering to adults and children as young as three.

The 27,000 square meter exposition area is close to the Putrajaya International Convention Centre (PICC). There are eight areas, from exhibition to interactive and 4-D cinema.

One of these areas, the "History of Space Exploration" shows 87 space exploration exhibits, most from the U.S. manned space programs and a few from Russian programs, including 86 display panels depicting NASA's history from Mercury to ISS and the future Constellation space programs. The largest exhibits are a full-scale replica of the Apollo Lunar Roving Vehicle and a 1:18 scale replica of the International Space Station (ISS), which measures 5 meters (16.4 ft.) by 8 meters (26.2 ft.). Most of the artifacts are originals used in training or during the flight. There are also several mementos on display which were flown during their respective missions.

All the display panels were prepared by Gerhard Daum, including approximately 700 NASA photos. The panels were originally developed for the permanent exhibition "Apollo and Beyond", opening in the summer of 2008 at the Technik Museum in Speyer, Germany. For MISA '07, German text was replaced with Malaysian (both versions include English translations).

All the exhibits are owned by Gerhard except the LRV, which belongs to the Technik Museum.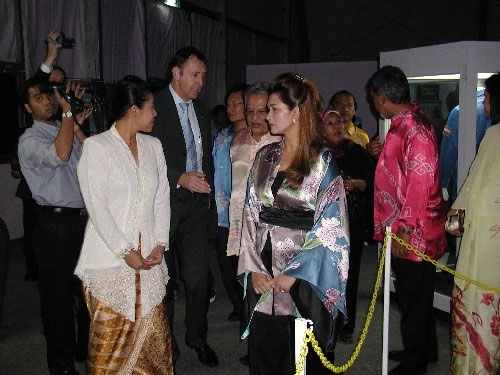 Malaysia's Tourism minister, S.E. Datuk Seri Tengku Adnan Tengku Mansor, during the walkaround.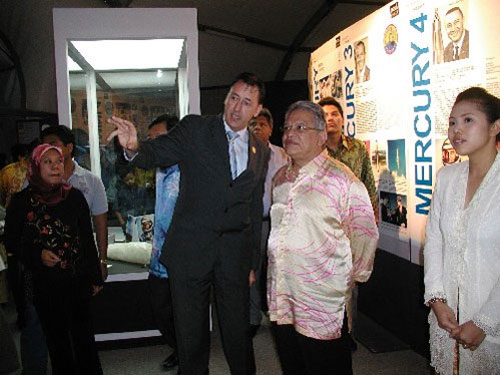 Gerhard explains the exhibit to tourism minister S.E. Datuk Seri Tengku Adnan Tengku Mansor.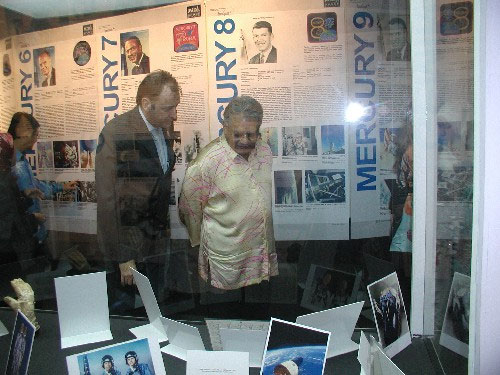 Gerhard shares some of his artifacts with the tourism minister.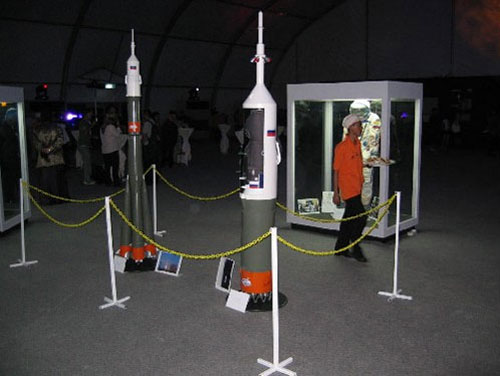 In the entrance hall are Russian Soyuz models in 1:10 and 1:20 scale and an original Sokol spacesuit on display.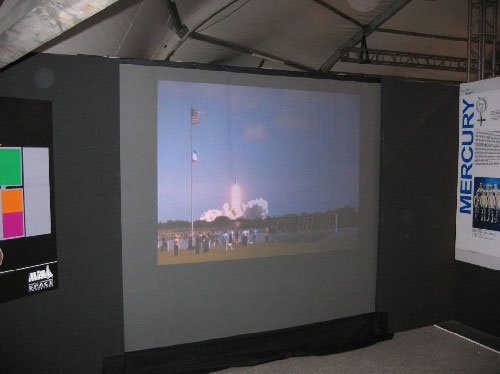 The movie at the beginning of the exhibition.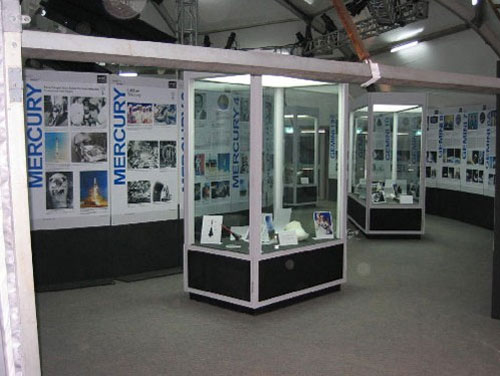 First part of the exhibition: Projects Mercury and Gemini.