Robert Pearlman
Editor

Posts: 27327
From: Houston, TX
Registered: Nov 1999

posted 04-06-2004 11:25 PM




---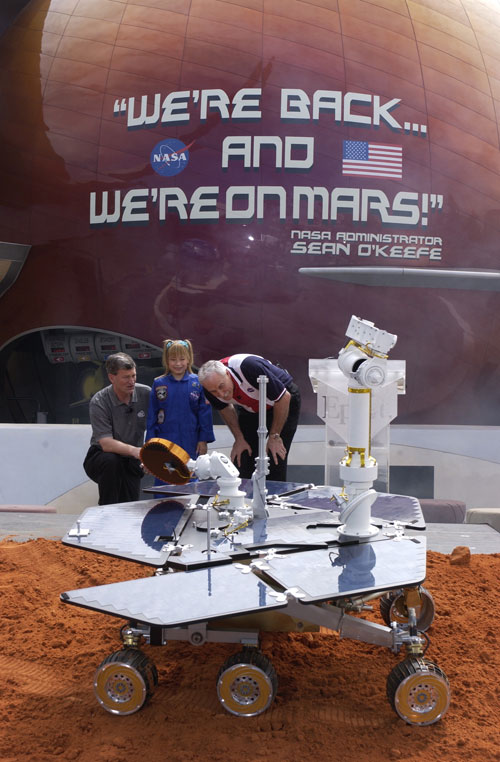 LAKE BUENA VISTA, Fla. (April 6, 2004) -- With the gleaming curves of Mission: SPACE as a backdrop, Walt Disney World President Al Weiss welcomed NASA Administrator Sean O'Keefe and aspiring astronaut Sofi Collis, 10½, to Epcot today for ceremonies honoring the success of the Mars Exploration Rover mission.
Following remarks by Weiss and O'Keefe, Sofi activated a replica of the twin Spirit and Opportunity rovers that rolled slowly across a simulated Martian landscape before revealing a quote from O'Keefe about the first rover's touchdown on Mars, "We're back ... and we're on Mars."
O'Keefe's quote and a cement imprint of the rover's tread will be permanently enshrined outside Mission: SPACE in the attraction's Planetary Plaza as a tribute to the spirit of discovery embodied by NASA and celebrated daily at Epcot.
In a nationwide contest last year to name the two rovers currently exploring Mars, Sofi penned the winning 50-word essay. Her suggestions, "Spirit" and "Opportunity," were selected from some 10,000 entries in a contest sponsored by NASA, The Planetary Society and LEGO.
On hand to represent the staffs of NASA and the Jet Propulsion Laboratory in Pasadena, Calif., were scientists including Orlando Figueroa, director of the Mars Exploration Program in the Office of Space Science at NASA's Washington, D.C., headquarters; Dave Lavery, who leads the Mars Advanced Technology Program; and Catherine Weitz, program scientist for the Mars Exploration Rover and Mars Express missions.
NASA's twin rovers launched toward Mars in 2003 and touched down on separate sites in January 2004 in search of answers about the history of water on Mars. The rovers have provided scientists with a wealth of new knowledge about the red planet, including confirmation that portions of its rocky surface once were covered in a salty sea. For additional information about the mission, visit marsrovers.jpl.nasa.gov online.
Mission: SPACE, which opened in 2003 at Epcot, provides Walt Disney World guests with a one-of-a-kind opportunity to feel what it's like to rocket to Mars aboard the X-2 Deep Space Shuttle in the year 2036. Powered by centrifuge technology similar to the training techniques employed by NASA astronauts, the leading-edge attraction provides a thrilling experience unlike anything on Earth -- or beyond. For additional information, visit disneymissionspace.com.
Rob Joyner
Member

Posts: 1292
From: GA, USA
Registered: Jan 2004

posted 04-07-2004 01:34 AM




---
All over our world, astronomers, scientists and space fans everywhere know the names 'Spirit' and 'Opportunity' and all because of Sofi, 10 1/2 years old!
What a great honor for her rover names to be selected and to attend this dedication at EPCOT!
Many decades from now she'll tell the story to her grandchildren about the time all of this happened to her. And then they all will go outside to look up at Mars and know that Sofi's rovers are still up there.
It's the stuff dreams are made of...