TRS
Member

Posts: 713
From: Wellington, New Zealand
Registered: Mar 2003

posted 02-07-2018 07:21 PM




---
The New Zealand Post has issued a commemorative "New Zealand in Space" set of stamps marking the Electron (and Humanity Star) launch.
On Sunday 21 January 2018 New Zealand's role in the international aerospace industry was elevated to a whole new level, when Rocket Lab launched its Electron rocket into orbit from Mahia Peninsula. We celebrate this extraordinary achievement with a commemorative stamp sheet.

The New Zealand in Space mint stamp sheet features six stamps of photographs taken of Electron's journey into orbit: the rocket itself, Rocket Lab's Launch Complex 1, the 'Humanity Star', Mahia Peninsula, the moment the launch took place and Earth, as seen from Electron.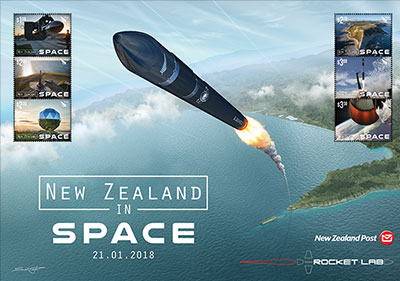 TRS
Member

Posts: 713
From: Wellington, New Zealand
Registered: Mar 2003

posted 02-07-2018 07:21 PM




---
You can order direct from NZ Post or I'm also happy to purchase and send at cost if there's a reason you can't do the direct online purchase (I imagine this would work out around US $27-29 including postage).