eurospace
Member

Posts: 2310
From: Brussels, Belgium
Registered: Dec 2000

posted 09-30-2013 12:52 PM




---
A pictorial postmarker will commemorate the 15th Anniversary of the 1st ISS module "Zarya", on 9 November 2013, in the German city of Neubrandenburg.

The postmarker will be used on the occasion of the 29th Space Days taking place in the Northeastern city.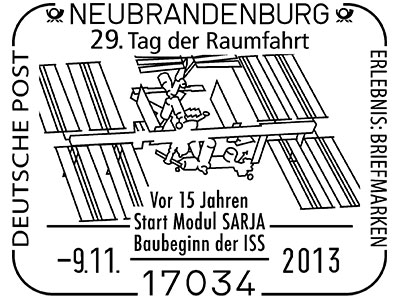 The organizer of the cancel, Ralf Schulz, will produce a number of cacheted covers:
cachet "Zarya", ISS stamp: €3

cachet "1st Vietnamese in space, Pham Tuan", personalized stamp, €4

cachet "Lodewijk van den Berg", personnalized stamp €4
For more information, contact Ralf at r.schulz_@web.de

Collectors who want to send in their own stamped covers shall use the following address:
Deutsche Post AG
Niederlassung Brief
Sonderstempelstelle
10770 Berlin
Germany
Stamped covers can be returned to you directly through the mail stream, or with an outside self addressed stamp envelope, which you should provide (free of charge inside Germany, postage to provided outside Germany).