A special pictorial cancellation is available through Houston's main general post office (GPO) on Franklin Street for all mailed-in requests to commemorate and honor the 25th anniversary of the loss of space shuttle Challenger and its STS-51L crew.
The cancellation was designed by artist Detlev Van Ravenswaay.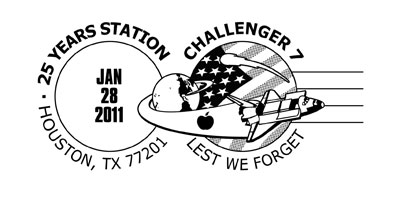 Requests should mailed to the address below with proper postage affixed (44 cents for covers; 28 cents for postcards; or 98 cents First Class International) and it is recommended that stamped return addressed return outer envelopes or packaging is provided by the sender.
Challenger 25 Years Station
c/o Postmaster
USPS GPO
401 Franklin Street
Houston, Texas 77201-9998
Due to anticipated volume, it may take up to a few weeks for postal personnel to process all of the requests.