eurospace
Member

Posts: 2275
From: Brussels, Belgium
Registered: Dec 2000

posted 09-05-2007 02:37 PM




---
4.10.07: 15320 Neuhardenberg;

Special postmarker no. 18/352 "50. Jahrestag Start Sputnik 1/70. Jahrestag des ersten Start eines Raketenflugzeuges/Testpilot Erich Warsitz (1906-1983)" (50th Anniversary Launch of Sputnik 1 - 70th Anniversary of the first launch of a rocket aircraft - test pilot Erich Warsitz.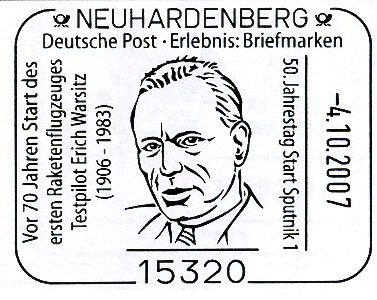 Ill.: Portrait of Erich Warsitz.
Send your stamped covers to:
Deutsche Post AG, Niederlassung Brief, Sonderstempelstelle, 10770 Berlin, Germany.
The cancel as initiated by: Heimatverein Neuhardenberg, Dietmar Zimmermann, Neudorf 41, 15320 Neuhardenberg, Germany
------------------
Jürgen P Esders
Berlin, Germany
International Director (Europe), Space Unit
Vice President, Weltraum Philatelie e. V.
http://groups.yahoo.com/group/Astroaddies
Edited by collectSPACE Admin on September 05, 2007 at 03:35 PM.