Robert Pearlman
Editor

Posts: 33247
From: Houston, TX
Registered: Nov 1999

posted 09-28-2015 03:22 PM




---
The curator of collections and exhibitions at the Stamford Museum & Nature Center in Connecticut contacted cS with this inquiry:
Can you please identify and date a pin? It has a blue background, yellow letters: "Truckin' with Ion Drive" over a two-winged space probe with a yellow drive apparatus over an image of Saturn. It was donated to us by the daughter of a former employee of the Stamford (CT) Observatory.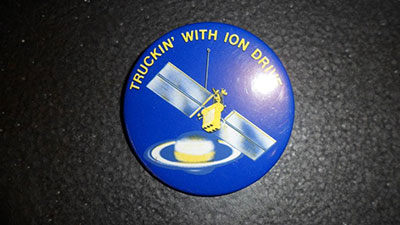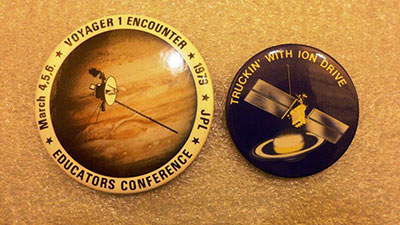 to-the-stars
New Member

Posts: 9
From: Canada
Registered: Jun 2009

posted 10-01-2015 03:54 PM




---
This button commemorates the flight of Deep Space 1 probe — the first NASA spacecraft with electrical-ion motor used for propulsion.

Deep Space 1 was launched on 24 October 1998 and the button was issued around this time. DS 1 carried out a flyby of asteroid 9969 Braille and comet Borrelly.