The Mars Society unveiled Saturday (March 22) the official mission patch for its
Mars Arctic 365
(MA365) venture, a historic 12-month human Mars surface simulation that will conduct a unique program of field exploration in one of the most Mars-like environments on Earth - the Canadian Arctic, while operating under many of the same operational constraints as an actual human mission on Mars. Scheduled to begin in the summer of 2015, the one-year program will take place at the Mars Society's
Flashline Mars Arctic Research Station
(FMARS) on Devon Island in northern Canada.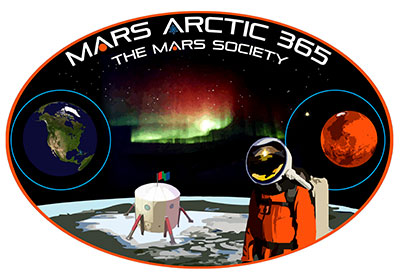 The new patch was generously created and donated by graphic artist Tim Gagnon of Titusville, FL and his partner, Dr. Jorge Cartes of Madrid, Spain. Working together since 2007, the two veteran designers have a long and storied history of creating patches for NASA and many of its human space flight missions, including those involving the Space Shuttle and the International Space Station.
"I wanted to participate in this one year Mars Arctic 365 expedition set up by the Mars Society because of its opportunity for analog research. This mission will help lay the groundwork towards the time when we send humans to Mars," said Mr. Gagnon.
Commenting on the new MA365 patch, Mars Society President Dr. Robert Zubrin said, "We want to thank Tim and Jorge for their wonderful mission patch. It will certainly help us publicize our Mars simulation and drive home the point that this important initiative is a serious one that will greatly benefit planning for a human mission to the Red Planet."
Copies of the MA365 mission patch will be available to donors to the Mars Society's Indiegogo crowdsourcing campaign, which is helping to raise funds for the Canadian Arctic endeavor (there are 30 days remaining in the online campaign).