The International Space Station's (ISS) Expedition 42 begins with the scheduled undocking of Soyuz TMA-13M in November 2014. Three new crew members will arrive shortly thereafter on Soyuz TMA-15M.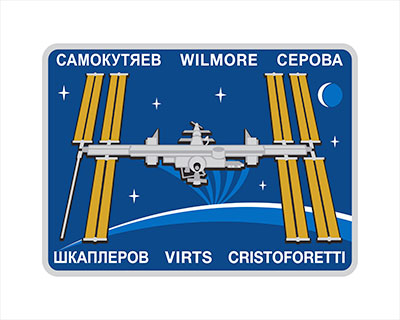 Credit: NASA
Expedition 42 will be commanded by NASA astronaut Barry "Butch" Wilmore. His crewmates, all flight engineers, include: Roscosmos cosmonauts Yelena Serova, Alexander Samoukutyaev and Anton Shkaplerov, NASA astronaut Terry Virts and European Space Agency (ESA) astronaut Samantha Cristoforetti.
The rectangular-shaped design portrays the International Space Station orbiting planet Earth with its solar array wings spread wide.
Facing the sun with the lower left outboard solar array feathered, the left array portrays a prominent number "4" and the fully deployed arrays on the right form the Roman numeral version of "2," which signifies the two increment crews which, together, comprise the six-member international Expedition "42" crew.
The crew and all supporting personnel around the world are also represented by the six stars adorning the sky around the complex.