Kocmoc
Member

Posts: 28
From: Washington, DC USA
Registered: May 2005

posted 11-18-2013 03:38 PM




---
Can anyone identify the attached photo for me?

There are ten items, all identical, save the serial numbers. As I understand it, the X-part number indicates that they were experimental and never flown. They cannot be found on stowage lists. One was sold recently as an Apollo rock bag, but that does not seem accurate to me as it does not account for the "water bottle" inside the case. I would appreciate any clues that you have.
Ten hot water bottle bags (for lack of a better ID)

One gray, plastic bag: X20M32512-1

One Beta Cloth, outer bag: X20M32525-5 and X20M32525-3
The serial numbers match the container and the bags. They are: A103, A110, A114, A115, A119, A121, A124, A125, A126, A128.

Measurements:
Rubber bag, neglecting the self-tubing that extends from the bladder: 10.5 by 9 by 20

Case with four snaps across the top. Measurements are open: 14 by 10.5 by 1.5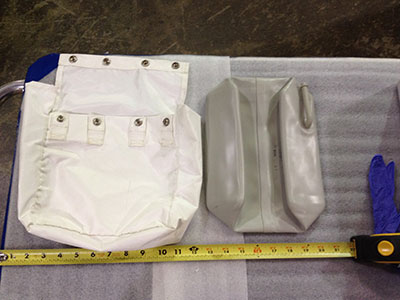 ------------------
Cathleen S. Lewis
space1
Member

Posts: 593
From: Danville, Ohio, USA
Registered: Dec 2002

posted 11-19-2013 06:28 PM




---
I had sold an identical pouch and bladder in a recent auction. They had no markings of any kind. I had gotten them from the Charles Bell estate.

My only guess was possibly as part of system for urine collection while running high altitude tests or some other testing involving a closed spacecraft. I suppose they could have been for water instead.

The "20M" reminds me of some Skylab part numbers, but I don't have anything concrete to offer.

------------------
John Fongheiser
Historic Space Systems
SpaceAholic
Member

Posts: 3276
From: Sierra Vista, Arizona
Registered: Nov 1999

posted 11-21-2013 04:43 AM




---
20M is an indicator of an MSFC spec (which supports the belief this is Skylab vice Apollo program associated).