Robert Pearlman
Editor

Posts: 30714
From: Houston, TX
Registered: Nov 1999

posted 03-07-2007 10:04 PM




---
From an X Prize Foundation release
The X PRIZE Foundation raised more than $2.5 million at the "Radical Benefit for Humanity" on Saturday evening. Hosted by Larry Page at Google's headquarters in Mountain View, Calif., luminaries from around the world attended including: Lawrence Bender, producer of "An Inconvenient Truth"; Tipper Gore; Sergey Brin, Google co-founder; Sir Richard Branson; Dr. Stuart Blusson, sponsor of the Archon X PRIZE for Genomics; Erik Lindbergh, grandson of Charles Lindbergh; Robert K. Weiss, vice chairman of the X PRIZE Foundation and film producer; Anousheh Ansari, title sponsor of the Ansari X PRIZE and the first private female space tourist; Arianna Huffington, opinion leader, Huffington Post; and Ted Waitt, founder of Gateway Computers. Robin Williams, actor/comedian, gave an impromptu performance for the crowd of more than 300.

...the live auction raised $1.9 million... Brian McClendon (creator of Google Earth) won one of the few U.S. flags that has made the trip to the moon, courtesy of a donation by Nancy Conrad, wife of Apollo astronaut Pete Conrad for $120,000.
No other details available, so its unknown if the flag stayed in orbit with the OFK, landed on the Moon in Conrad's PPK or maybe, was worn by Conrad on the Moon.

Per the latter, Nancy Conrad had earlier offered for sale the U.S. flag from Pete's PLSS: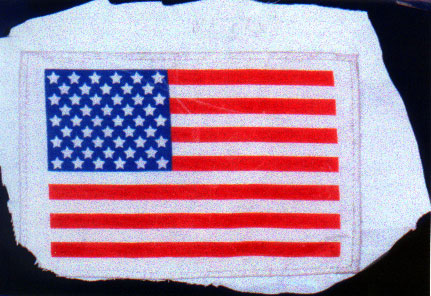 divemaster
Member

Posts: 1365
From: ridgefield, ct
Registered: May 2002

posted 03-07-2007 10:35 PM




---
Sure looks a might bit clean to have been on the PLSS.

How come these types of people are never around when I'm looking to raise money for charity?

Robert Pearlman
Editor

Posts: 30714
From: Houston, TX
Registered: Nov 1999

posted 03-08-2007 10:39 AM




---
quote:

---

Originally posted by divemaster:
Sure looks a might bit clean to have been on the PLSS.

---
That's because I was mistaken: the flag pictured above was sewn on to the Oxygen Purge System (OPS), which sat atop the PLSS.