tnperri
Member

Posts: 118
From:
Registered: Jun 2011

posted 02-05-2013 07:38 PM




---
Anyone know anything about this...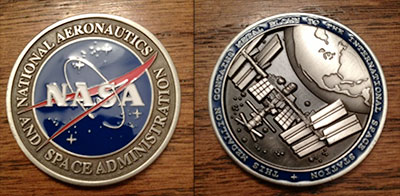 Found this on eBay. NASA on obverse and ISS on reverse with contains metal flown to the International Space Station.
Elsewhere, it was said this medal was presented by Charles Bolden, NASA Administrator. So I am guessing 2010-12?
328KF
Member

Posts: 829
From:
Registered: Apr 2008

posted 02-06-2013 08:36 PM




---
Very cool item, but not worth the $1000 asking price, if this is the same one I saw over there. I realize it is somewhat rare because "challenge coins" are limited and presented at the discretion of the owner, but there are lots of coins with flown metal from ISS flights more reasonably priced.

If given the opportunity to receive one from, say, the NASA Administrator, I would treasure the gesture as much as the item, rather than trying to flip it on Ebay. The coin itself without the story is just not that valuable, in my opinion.
p51
Member

Posts: 771
From: Olympia, WA, USA
Registered: Sep 2011

posted 02-07-2013 11:25 PM




---
quote:

---

Originally posted by 328KF:
The coin itself without the story is just not that valuable, in my opinion.

---
And yet, many people don't see it that way at all. In the military, I got coins every now and then, some of them pretty cool (My Air Force One crew and some Special Forces coins were normally the most impressive, but the one I like the most is the one R Lee Ermey gave me in person for appearing on "Mail Call" on the history channel a few years ago). When I showed people, I usually got the reaction, "Wow, how much are you gonna sell THAT for?"

When the President of the United States came to the post I was last at, you could find his coins at the local surplus places for a few weeks afterwards, most of them less than $20. If you'd sell a POTUS coin that the man handed you in person, there's no limit to what else you'd sell. Frankly, if a President visited my unit when I was active duty and my soldiers sold off the coins he gave them, I think I'd have real problems trusting them with sensitive items afterward. But that's just me.

Buying and selling challenge coins is a huge thing now. Personally, I don't get it, but it's impossible for me to ignore a massive secondary market for them.